"

The ancient weapon will not crumble, nor will the king's reign be disturbed! Brave the labyrinth's traps, defeat the battle-hardened Cioking below, and claim your well-deserved treasure! (*) 5 floors with no shortcuts

"

 

— Mission Description 
Suggested: Lvl 21+ / Reward: ?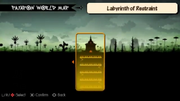 This is the third quest in the Labyrinth of Restraint, and is the same as the quest "Volcano King of the Labyrinth". You will fight Cioking in this quest. See here for more details.