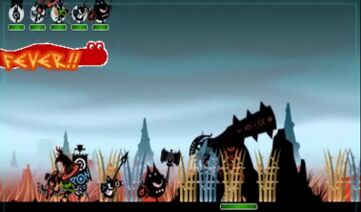 Health Points (HP) are an environmental stat in the Patapon game series. Health points are a measurement of a unit's well-being, and will gradually decrease from green for good levels, amber for cautious levels, red for dangerous levels, and black for critical levels. once a unit's health drops to 1, it will be knocked back, wobble a little, and then melt into a pile with its eye being the only visible remains, which then sink into the ground.
Health Meters
Edit
In every Patapon game, there is an HP Meter that shows the HP status of the frontmost Patapon. In the first two games, the first unit in a group of Patapons will show its HP and its current actions, with a number to the bottom right corner to show how many units there are in that group. Say for example you have a group of three Yaripons. The HUD will copy the animations of the first unit in line and show its HP. However, if that unit is moved back for some reason (say, through knockback), the next unit in line will have its animations and HP shown.
Patapon 3 is slightly different. While the HP HUD is the same as before, since you only have (Ton, Chin, Kan and Uberhero), it will always show their animations and the number of Patapons in the group is removed, since you now only have four units in total.
If any unit dies in Patapon 1, they will drop a cap, which you need to pick up, otherwise they will disappear forever. In Patapon 2, the cap is collected automatically. In Patapon 3, there are no caps, since the The Tree of Life isn't present. To revive dead units, summon a Djinn, otherwise that unit will return when you come back to the Hideout.
Bosses and enemy units also have HP, but in Patapon 1 and 2 it's not visible. While Bosses have animations for when they are low on HP (typically looking pained or tired), enemies have no way of showing their health. In Patapon 3 Bosses and Mini-Bosses now have health meters which function similarly to your units, following the green-amber-red-black stages until dying at 1HP. However, Bosses gain a new ability where once their health drops down to about one third, they will attack much more quickly, to the point where they don't even telegraph their attacks beforehand. Mini-Bosses do not have this ability.
Restoring HP
Edit
Although only a handful exist, there are methods of healing your army:
Community content is available under
CC-BY-SA
unless otherwise noted.