MY EYE!! MY EYE!!!

Warning: This page contains spoilers that can spoil your experience for the Patapon games.

"IT" is a supposedly great treasure waiting at Earthend. The Patapon Legend states that seeing "IT" will grant a Patapon eternal contentment, but Zigoton prophecy states that when the Patapons find "IT", their own empire will collapse. When the Patapons find the morning sun at the end of Patapon, they believe it to be "IT". However, Queen Kharma assures them that "IT" is beyond the seas. In Patapon 2, after breaking the giant egg that held captive the Patapon Princess, they again believe it to be "IT". The Patapon Princess states that Earthend may be beyond the seas, apparently confirming Kharma's words.
Finally, at the end of Patapon 3, Silver Hoshipon was confirmed to be IT.
Things mistaken to be IT
[
]
A giant Egg (Patapon 2)
The chest holding the Archfiends (Patapon 3 Prologue)
IT is actually beyond the seas. The Patapons kept searching the seas and found a land which was mistaken to be IT. Seeing their error, they then made a bridge to another land beyond the seas.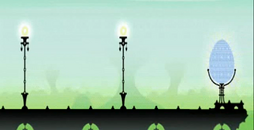 Trivia
[
]
The Patapons will give their life to find IT, in which they believe they will find eternal bliss.
Both Queen Kharma and the Patapon Princess assume that Earthend may lie beyond the seas.
IT is Hope, which is Silver Hoshipon.
When the Patapons gazed upon the morning sun, a Patapon says 'My eyes...MY EYES!!!' despite the fact the Patapons only have one eye. In the Patapon 2 they say "My eye!!!"
In Patapon 3, the Patapons cracked the giant evil chest, assuming that "IT" is placed inside the chest.

In Patapon 3 you can customize your hideout with Earthend Decoration set. This set actually tells from left to right Patapons quest for IT, starting from Morning Sun, then Sea Monster, then Rainbow Bridge and finally Silver Hoshipon himself.
Priestess Meden actually doubts they could find "IT" and had second thoughts of continuing because of the heavy losses the Patapons are sustaining although Ton, Chin, and Kan have reached or discovered Earthend at the end of the game.