"

Freeze spear class for the Archfiend of Purity. Summons rain to boost all skills: attack, defense, and recovery!

"



 

— In-game description. 
Naughtyfins (「みだらなフィーナ」?; Midarana Fīna) is one of the seven Dark Heroes. She has a fish-like/mermaid mask/hood and her weapons of choice are pikes. Her main weapon is the Ice Pike.
As the game's story progresses, the player gets clues that lead to her real identity.
Personality
Edit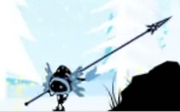 She is affiliated with the Archfiend of Purity and represents the Deadly Sin of Lust. Naughtyfins is incredibly promiscuous throughout the game; she is often seen poledancing on her pike and often makes flirtatious comments; at one point she even implies she wants to do "adult relations" with the other Dark Heroes. She shows affection for your Uberhero, too.
Equipment
Edit
Naughtyfins can use Spears, Pikes and Halberds from unlocking. Naughtyfins can equip 5 Set Skills.
Hero Mode: Please Freeze
Edit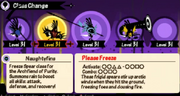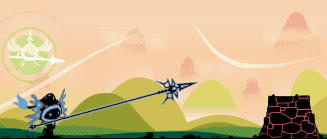 These frigid spears stir up arctic winds when they hit the ground, freezing foes and dousing fire.
Activate: PON PON CHAKA CHAKA ~ PON PON PATA PON
Combo: PON PON PATA PON
While in Dark Hero Mode, Naughtyfins jumps high into the air and throws her weapon at a sharp angle, exploding upon impact, freezing enemies most of the time, even if the equipment doesn't have any freezing power. Additionally, she is the best support unit in Dark Hero Mode, as she has the ability to let other Dark Heroes summon rain to boost their health.
When she enters Dark Hero Mode, she says "Please Freeze!♥".
Class Skills
Edit
Set Skills
Edit