MY EYE!! MY EYE!!!

Warning: This page contains spoilers that can spoil your experience for the Patapon games.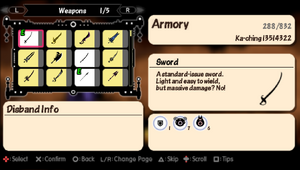 Equipment featured in Patapon 3. The weapons have different styles and usages depending on the class that is used.
Each equipment has five different rarities:
Common - Default and unenchanted equipment.
Enchanted - Equipment imbued with special properties. See below for more information.
Unique - Uncommon equipment that have natural bonuses and special effects.
Super Unique - Rare equipment with powerful, sometimes detrimental, bonuses and effects.
Ultimate - Extremely rare equipment. See Ultimate Equipment for more information.
Common and Enchanted equipment can be improved at the Blacksmith, up to the highest level Uberhero. Once an item reaches levels 11 and 31, its appearance changes, though this is purely cosmetic. Unique and Super Unique equipment cannot be improved this way and stronger versions must be found through Treasure Chests. The max levels of Unique and Super Unique equipment are +24 and +21, respectively.
Weapons typically used by Taterazay-classes. These weapons are usually melee weapons with short range but high damage.
Yarida-Class Weapons
Weapons typically used by Yarida-classes. These weapons have a variety of uses, usually thrown, but can be used to strike or stab opponents.
Weapons used only by Yumiyacha-classes. These weapons are focused on long-range attacks and Status Effects.
Other Weapons
Weapons used exclusively by Dark Heroes during Dark Hero Mode.
Armor/Defensive Equipment
Equipment used by all classes. Some categories are exclusive to certain classes.
Enchantment
Enchantments can occasionally be found on common equipment like Ice Swords or Lightning Helms, providing additional offensive/defensive stats. Enchanted weapons can commonly by found in Treasure Chests, with rarer enchantments being found in Gold and Jeweled chests, but are much more uncommon in these chests. Enchanted weapons will be denoted with a light purple name and a shortened prefix of the enchantment at the end of the name, such as [Fl] or [Hp].
Enchantments are split into Offensive enchantments and Defensive enchantments:
Offensive Equipment
Flame [Fl]: Increased flammability. Burn rate increases by 25% and attack is boosted by +46.6 (recurring)%
Strength [St]: Damage boost. Boosts attack by +60%
Poison [Po]: Increased toxicity. Poison rate increases by 25% and attack power is boosted by +73.3(recurring)%
Holy [H]: Effective against undead. Damage against Demons and Undead is increased by +50%, +5% critical and attack power is boosted by +86.6 (recurring)%
Slayer [Sl]: Effective against dragons. Damage against dragons is increased by 150%, +10% critical and attack power is boosted by +100%.
Destructo [De]: Effective against matter. Attack Speed and Attack Movement Speed both increased by 10%, critical chance increased by 15%, Damage against Demons, Undead, Dragons and Giants increased by 10%, Damage against Shells, Wood, Stone and Metal increased by 50%, and Attack Power increased by 113 (recurring)%.
God [G]: Unparalleled attack ability. Attack Speed increased by 20%, Critical rate boosted by 30%, and Attack Power boosted by 140 (recurring)%
Defensive Equipment
Hitpoints [Hp]: Hit Point boost. Stamina increases by 300.
Armor [Ar]: Increased melee defense. Stamina increased by 500, Critical resistance increased by 10%, x0.9 damage taken from Strike, Slash and Stab attacks and defense increases by 10.
Weight [W]: Increased weight prevents Knockback. Stamina increases by 1000, defense increases by 15, Stagger and Knockback resistance increased by 10%, x0.8 damage taken from Strike, Slash and Stab attacks and weight increases by 5.
Ice [Ic]: Boosts burn resistance and reduces fire element damage. Stamina increases by 2000, defense increases by 20, burn resistance increases by 20% and damage inflicted by fire is halved.
Endurance [En]: Reduced damage (All Types). Defense boosted by 25, Stamina boosted by 5000, Crit, Kb and Stagger resistance boosted by 5% and all defensive bonuses x0.9
Cure [Cu]: Increased defense against poison. Stamina increased by 10000, Defense increased by 30, Poison resistance increased by 20%, and Damage taken from Poison is halved.
Mega [Me]: Greatly increases Hit Points. Stamina boosted by 20000, Defense boosted by 50, Critical, Knock back and Stagger resistances increased by 10%, Ignite, Freeze, Sleep and Poison resistances increased by 5% and all defensive bonuses x0.85 .
Demo Version
These enchantments can only be found in the Patapon 3 Demo:
Offensive Equipment
Lightning [Li]: Increased chance of staggering or igniting an enemy.
Critical [Cr]: Increases critical rate.
Defensive Equipment
Chill [Ci]: Same as Ice [Ic], but stronger.
Trivia
Even if a piece of equipment has no critical rate, other equipment like helmets or shields can give it a critical rate (like the Bunny Hood, Critical Chariot, Alldemonium Shield, or Stinger Shield). For instance, the Axe of Hanboon has an extreme base damage but no critical rate. When equipped with critical equipment, however, it can have a high critical rate allowing for unparalleled damage. This can work well with classes like Cannassault or Tondenga as they both have weapons that trade damage for critical rate.
The Straw Boing Helm is likely a reference to the hat worn by Luffy, a main character in the anime and manga "One Piece".
Poseipon's Trident is a reference to Poseidon's Trident, a trident that the Greek god of the sea is often seen wielding.
The club Mjollnir is probably a reference to the Norse God Thor's hammer, which goes by the same name.
The Djinn referred to in the Thunderstorm Staff description is Soragami.
The Djinn referred to in the Flamesea Staff description is Yamagami.
Many Unique/Super Unique Weapons are based on equipment featured in previous Patapon games. These include: Tebenos Helm, Dokaknel's Fang, Deep Impact, Great Golem Arm and Bunny Hood.
Gugnir looks similar to Divine Halberd Kami, a weapon found in both previous Patapon games.
When a level 11-40 spear is thrown, it looks like a level 1-10 spear. This also applies to Halberds (Charibasa) and Daggers (Piekron).
The Greatsword Serberker is taken from the word "berserker", with the first and second syllables swapped.
Palkyria's Flight resembles Divine Javelin Kami, in Patapon 2.
Romulus' Halberd belongs to Romulus, who by legend, had founded the Empire of Rome.
Deathsoul Scythe used to have Red colors but it was changed to purple in final game.
Illiamtel's Overture is a reference to the William Tell Overture with the first and last letter of the person being removed.
Possibly due to the loss of Toripons, the demon bird Omnoraki (from Patapon 2) was cut up, and the remiges used in the Lilith Shoes (the same description as Patapon 2's Magic Shoes Lilith).
The first part of the name of the shiv "Heltopay's Kiss" is a play on the phrase "Hell to pay".
According to the description of the Cape of Ulysses, aliens live on the world of Patapon's moon!
The Siren Horn is a reference to the ancient Greek story of the Sirens, half-woman, half-vulture beasts who would lure sailors into crashing their ship, using their entrancing singing.
The Bow of Apollopon refers to the Greek god Apollo.
In the EU Version of Patapon 3, some of the helms e.g "Bunny Hood" is called "Bunny Head".
The Crono Riggers and Bunny Hood could possibly be references to famous video games Chrono Trigger and The Legend of Zelda: Majora's Mask, Crono Riggers being an obvious reference to the game's name, and the Bunny Hood being an obvious reference to an item in Majora's Mask.
The Stagger Longbow resembles the Giant Bow "Failnaught" from Patapon 1.
The Gesundbeit spear could be a play on the word "Gesundheit".
In the EU version of Patapon 3, the 'Sleepy' equipment has been renamed to 'Sleepi' (e.g Sleepi Bow)
All of these weapons displayed are what it would look like for the Uberhero to equip the item. Ton, Chin and Kan get smaller versions of the weapons/armor, but they still have the same functions.
Ponteo the Victorious for Ton is not coloured red, unlike the Uberhero's counterpart. This could be intentional or an unfinished product.
Lightning and Fire equipment can be affected by Oohoroc's Lightning and Flame Master set skills. (e.g Lightning Blade/Fire Bow)
Alarium Stompers is a recoloured version of the Heaven Boots in Patapon 2, with the stompers being coloured brown instead of yellow.
In the spanish version of Patapon 3, there are many changes, such as:

Capes are translated to "Wings".
The Bunny Hood is now "Gazapon's Head".

There are different versions of some standard equipment (lance, pike, great sword, cannon) that were never implemented in the final versions of the game but remain still in the game's files.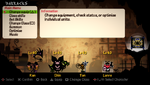 All the equipment from the previous games is remaining still in the game's files, they can be loaded via hacking or file modification
See Also