MY EYE!! MY EYE!!!

Warning: This page contains spoilers that can spoil your experience for the Patapon games.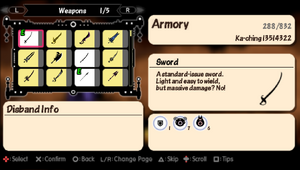 Equipment featured in Patapon 3. The weapons have different styles and usages depending on the class that is used.
Each equipment has five different rarities:
Common - Default and unenchanted equipment.
Enchanted - Equipment imbued with special properties. See below for more information.
Unique - Uncommon equipment that have natural bonuses and special effects.
Super Unique - Rare equipment with powerful, sometimes detrimental, bonuses and effects.
Ultimate - Extremely rare equipment. See Ultimate Equipment for more information.
Common and Enchanted equipment can be improved at the Blacksmith. Once an item reaches levels 11 and 31, its appearance changes, though this is purely cosmetic.
Weapons typically used by Taterazay-classes. These weapons are usually melee weapons with short range but high damage.
Yarida-Class Weapons
Weapons typically used by Yarida-classes. These weapons have a variety of uses, usually thrown, but can be used to strike or stab opponents.
Weapons used only by Yumiyacha-classes. These weapons are focused on long-range attacks and Status Effects.
Other Weapons
Weapons used exclusively by Dark Heroes during Dark Hero Mode.
Armor/Defensive Equipment
Equipment used by all classes. Some categories are exclusive to certain classes.